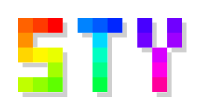 News¶
Release 1.0.0-rc.2 (August 28. 2021)¶
Fix typo in "reset" register.
Release 1.0.0-rc.1 (January 31. 2021)¶
Sty is now fully typed.

Deprecated methods .set_style(…) and .get_style(…) were finally removed.
Release 1.0.0-rc.0 (January 08. 2021)¶
Sty version 1.0.0 is now feature complete.
I'm going to support Python version >=3.7 indefinitely.

Sty will follow semver so there won't be any breaking changes for version 1.x.x after 1.0.0 was released.

This is a pre-release (rc.0). I'll release 1.0.0 in a couple of month if no major bugs are reported.
Description¶
---
Sty's goal is to provide Python with a simple, customizable and performant string styling markup, which is decoupled from color palettes and terminal implementations.
Sty supports 3/4bit, 8bit and 24bit (truecolor/RGB) colors as well as effects like bold, italic, underline, etc.

Sty should work on most Unix platforms with most terminals. It works with recent Windows terminals. Window legacy terminal (cmd) needs a shim to work.

Sty comes with default color palettes and renderers, but you can easily replace/customize them, without touching the markup in your code.

Sty allows you to mute/unmute all styles in your codebase.

Sty provides high access performance for all styling rules.

Sty is fully typed, you should get good editor support for it.

Sty has no dependencies.

Sty follows semver

Sty will support Python >=3.7 for as long as possible.
If you run into compatibility problems with sty, please file an issue!
Code Example¶
---
from

 

sty

 

import

 

bg

,

 

ef

,

 

fg

,

 

rs





foo

 

=

 

fg

.

red

 

+

 

"This is red text!"

 

+

 

fg

.

rs




bar

 

=

 

bg

.

blue

 

+

 

"This has a blue background!"

 

+

 

bg

.

rs




baz

 

=

 

ef

.

italic

 

+

 

"This is italic text"

 

+

 

rs

.

italic




qux

 

=

 

fg

(

201

)

 

+

 

"This is pink text using 8bit colors"

 

+

 

fg

.

rs




qui

 

=

 

fg

(

255

,

 

10

,

 

10

)

 

+

 

"This is red text using 24bit colors."

 

+

 

fg

.

rs





# Add custom colors:





from

 

sty

 

import

 

RgbFg

,

 

Style





fg

.

orange

 

=

 

Style

(

RgbFg

(

255

,

 

150

,

 

50

))





buf

 

=

 

fg

.

orange

 

+

 

"Yay, Im orange."

 

+

 

fg

.

rs





print

(

foo

,

 

bar

,

 

baz

,

 

qux

,

 

qui

,

 

buf

,

 

sep

=

"

\n

"

)



The code above will print like this in the terminal:
Demo¶
---